In News
Posted Jul 27, 2011
EAST PROVIDENCE, R.I. - Everyone who opens a restaurant has their own particular reason for doing so. But I don't think I've heard a sweeter one than that espoused by Tracy and Nick Rabar of Rumford.
Standing in the dining room of Avenue N American Kitchen they will tell you they opened the doors so their Rumford neighbors can have a place to gather and dine on regional cuisine.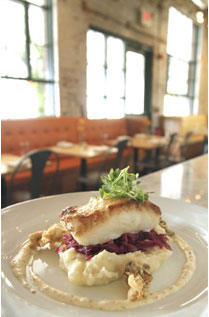 Block Island Black Bass with new potato puree, sweet and sour red cabbage, crispy oysters and horseradish aioli..
"We love our town and we're glad we can offer our skills here," said Nick. "We just wanted to be part of the neighborhood."
"I'm glad we had three years living here and time to talk to our neighbors and friends," said Tracy.
How else would they know exactly what those folks wanted in a restaurant that would move into Rumford Center, a recently developed complex where Rumford Baking Powder was once made.
It's all the better when the place feels like home from the start. Judd Brown Designs transformed the industrial space into a restaurant with a high ceiling, a large bar with hand-crafted wood and a wide marble top perfect for dining, and banquettes up against the front window making the space cozy and intimate. Several of those who helped build the restaurant are regulars as well, said the Rabars.
The neighbors apparently appreciate the Rabars as well. They have been given gifts of an antique baking powder can and an even older bottle.
Avenue N has to be one of the most anticipated restaurants of all time, taking almost a year and half from when the Rabars announced the coming restaurant. And why wouldn't it be? Both Nick and Tracy have had high profile jobs and worked in some of the most iconic of Providence restaurants.
A graduate of the Culinary Institute of America, Nick is the former corporate executive chef of the Chow Fun Food Group, with restaurants including 10 Prime Steak and Sushi, Rick's Roadhouse and Luxe Burger Bar.
Tracy's experience is in what is commonly called in restaurant speak "the front of the house." It means she has managed dining rooms and the business side outside of the kitchen and done that at such high profile spots as the Capital Grille with founding owner Ned Grace and the former Atomic Grille on Chestnut Street. She is currently managing a second job as Dining Room Educator at Johnson & Wales University.
Nick, too, has a second job as the star of Chef 2 Go, a cooking/lifestyle show on Cox Cable that was recently nominated for a regional Emmy Award.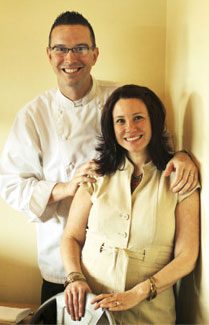 Nick and Tracy Rabar.
Together they have a growing family, including son Wynn, who was born in January, and Tracy's two young sons.
The pent-up neighborhood demand for a new restaurant has meant a busy start for Avenue N. Nick said they are serving some 1,000 dinners a week in the 44 seats which include 14 at the bar and a few outdoor tables. That's a brisk business. Chef de cuisine is Esteban Martinez and together he and Nick are already changing the menu because so many diners have become regulars they are looking for something new to try.
Hung on one wall of the restaurant are the wooden doors that were on the front of the building and pulled down to close the space back in its factory days. That era ended in 1968. A mixed-use development with apartments and businesses began filling the complex a few years ago. Their next door neighbors are Lynn and Jim Williams, another entrepreneurial food couple who opened their third Seven Stars Bakery store, the first outside of Providence, there in Rumford Center.
Nick buys his bread and pizza dough from Seven Stars, and offering pizza means that diners can opt for a casual meal or the upscale fare associated with Nick's talents. Plenty of appetizers and burgers also offer dining options.
When Nick talks about the regional cuisine, he's talking about his take on all-American food. You will find New England specialties for the summer because the food of the region complements summer. There are Diver Scallops and Block Island Black Bass and hanger steak and burgers. A corndog is on the menu as something fun and kitschy but it comes with mac and cheese, ever in demand.
Come fall and winter, he'll focus on heartier dishes, perhaps from the Midwest or the South. And expect dishes that are a modern interpretation of wine country in California. They are shopping local farms and using Farm Fresh RI's Market Mobile to get homegrown produce and more. They offer Sunday brunch.
When they open for dinner every night at 4 p.m. they do so because they know their neighborhood. They are flanked by golf courses and those golfers want a bite right when they get off the links. There are young families with kids who want to eat early. The seniors at Rumford Towers also like the early hour.
So while the Rabars chase their piece of the American Dream, they do their part to be neighborly, too.
Details: Avenue N American Kitchen, 20 Newman Ave. at Rumford Center, (401) 270-AVEN (2836), avenuenrestaurant.com.
- By Gail Ciampa, Journal Food Editor at Providence Journal, Photos by Kris Craig -