By edible RHODY
In News
Posted Jul 13, 2013
Nick & Tracy Rabar Dish Out Local Comfort from Their Home Away from Home
After he finishes his lunch and leaves Avenue N American Kitchen in Rumford, Will Flanagan, mayor of Fall River, Massachusetts, quickly returns and plunks a crumpled plastic grocery bag on the white marble bar in front of owner Nick Rabar. "For you," says the mayor. Rabar reaches into the wrinkly sack to reveal a gleaming round loaf of Portuguese sweet bread, bringing a wide smile across his face "It was made by the ladies at the church," beams Flanagan.
"Fantastic," Rabar gushes. "It's a work of art. That's beautiful!"
Rabar's energy is as palpable as it is contagious, and as Avenue N's head chef and owner—as well as a TV host and culinary personality; chef for his newest endeavor, The Pantry; a husband and father of three—he needs that exuberance to stay on his toes. "High octane" is how he describes just one element of Avenue N but it might just be the best way to describe this under-40 impresario.
When he and wife, Tracy, moved to Rumford in 2009, Rabar was comfortable in his career, excelling as the corporate executive chef and vice president of operations under culinary maestro John Elkhay at Chow Fun Food Group. The company continues to operate five successful Rhode Island restaurants in its portfolio.
"I had a lot of say and had my hand in a lot of different pies at Chow Fun," Rabar recalls. "I was doing everything—event planning to hiring and training and much more. John was an incredible mentor—I couldn't have asked for a better one."
As he developed his own style, Rabar sought to highlight fellow chefs who shared his gastronomic passion. His first foray into television was on a local production, Stir It Up, and later on the Emmy-nominated Nick Rabar: Chef 2 Go, a cable series that continues to follow the chef on location at area restaurants, food trucks, farms and other culinary destinations. "[Elkhay] allowed me to branch out and do some of my own things like the TV show and stuff—he could have easily said, 'No thanks,'" says Rabar.
Unlike many chefs, Rabar's brass ring never included opening his own restaurant. His enviable role at Chow Fun kept him challenged and let him channel his creativity, all while bringing home a steady paycheck.
But as he and Tracy further embedded themselves in their Rumford community, they realized what residents there had long known was missing: a neighborhood restaurant.
"There's stuff within arm's reach. There's some decent stuff in Seekonk, there's the East Side of Providence, which we love, but everything is two to three miles away. There was no neighborhood spot—no gathering place."
Almost daily, the couple, with their two sons in tow, would drive past the Rumford Center, a factory building that showed its more than 150 years. Home to Rumford Chemical Works, the company was best known for manufacturing Rumford Baking Powder, which acts as a leavening agent. The irony, says Rabar, is that the village, once crowned the "kitchen capital of the world," lacked a restaurant to gather at.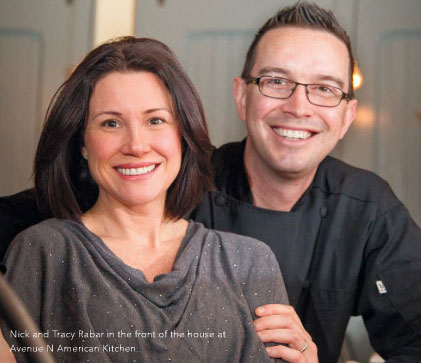 Nick and Tracy Rabar in the front of the house at Avenue N American Kitchen.
Colin Kane, one of the principals of PK Rumford LLC, the company that bought the dilapidated mill complex in 2006, visualized a mixed-use campus that offered commercial, retail and apartment living. In a second ironic twist, Nick and Tracy catered an event for Kane while still working for Elkhay.
"It was, like, one of those developers' parties— it was on the second floor and the building was a total shell—nothing here. The ground was all dug up, the parking lot not even there, and we're in hard hats…" he recalls.
In a series of subsequent events that had the couple riding a roller coaster of gaining partners, losing partners and securing capital but not enough for the Rumford Center space all while expecting their third child, the two took a profound risk with an agreement to open a restaurant in nearby Attleboro. That city's economic development initiative was the investment they needed to gain critical funding in a tight-fisted recession.
Out at dinner to review the final paper work, the Rabars bumped in to none other than Colin Kane and Nick took advantage of the serendipitous moment. He approached Kane, who had heard of the Attleboro deal and offered his sincere congratulations, to which Rabar replied, "One last shot." The rest is (long and detailed) history.
Avenue N American Kitchen opened in Rumford in the spring of 2011. Though the menu changes to accommodate the seasons, it remains rooted in traditional comfort food, and in many cases, with a playful, modern twist.
In the planning phases, the Rabars' then-10- year-old son, Jackson, told his dad his perfect menu would include pizza, macaroni and cheese and barbecue potato chips.
"I was, like, what if there was a way to spin all of this? So instead of hot dogs we did corn dogs. Then we did the mac 'n' cheese," says Rabar. "You know what I realized? People like nostalgia—things that remind them of yesteryear. And it's, like, what's wrong with sittin' at a bar, having a craft cocktail, and poppin' a corn dog? Nothing."
Summer arguably best showcases the labor of Rhode Island's farmers, foragers and fishermen, and Rabar has included that abundance with fresh tomatoes with ricotta salata, basil, mint, white balsamic and olive oil. The corn bisque includes Four Town Farm corn, pancetta, chive blossoms and honey. From our surrounding waters he's dishing up cod, fluke, bass, clams and Plum Point Oysters and for meats he often turns to local producers.
"I've worked on farms, so it's instilled in me but I think it's just good business," says the chef about farm-to-fork dining. "No, it's not a trend. We're into it but we don't scream it from the rooftops. It's not part of our marketing strategy; it's more of a way of life."
Running Avenue N seven days a week, operating off-site catering, and raising three sons with their own hectic schedules leaves Nick and Tracy Rabar with very little free time. Nevertheless, the two were inspired this year to open The Pantry at Avenue N.
"I liken it to an indoor farmers' market," is the way Tracy Rabar explains it. Though just 450 square feet of storefront, the couple collaborates on everything from menu planning to presentation.
With nearly 25 years of front of the house experience, Tracy says this new endeavor, which offers both prepared foods and market staples, gives her the opportunity to tap into her passion for well-made food.
"We don't have a menu, except for the sandwich board. Everything else is from scratch," says Tracy, who orders from Farm Fresh Rhode Island's Market Mobile twice weekly (or, as she calls it, "stocking The Pantry"), which inspires much of the team's culinary creations.
Reflecting back on the journey the past few years have offered, Nick Rabar says the Avenue N philosophy is less new thinking and more old school.
"It's almost like something out of the '40s or '50s, where, like, the diner guy with the paper hat is wiping the counter with his apron on—the guy who has the privilege of cooking for the town. You're not fighting your competition or a lot of neighbors. You can be intelligent and strategize how to operate your business," he says.
"It was a giant leap, and a good one."
- By Andrea E. McHugh at edible RHODY, Photos by Chip Riegel -
Andrea E. McHugh is a freelance writer who has written for the Hartford Courant, Baltimore Magazine, Daily Candy, Design Sponge, Providence Monthly and more. She resides in Newport.