In Reviews
Posted May 17, 2012
EAST PROVIDENCE -- It wasn't long after Nick and Tracy Rabar opened their Avenue N American Kitchen last year that the place, in the former Rumford Baking Powder factory, was full night after night.
Conceived as a place where locals could gather and dine on regional cuisine, Avenue N's modest goals quickly outgrew the neighborhood. Nowadays, it attracts people from all over northern Rhode Island and nearby Massachusetts.
Not surprising. Nick's menu (he's the former corporate executive chef of the Chow Fun Food Group restaurants) is small but inventive -- where else are you going to find corn dogs and mac 'n' cheese as an appetizer? -- and reasonably priced -- entrees (there are only eight) range from $11 to $23.
It is, however, a tiny place even with the 30 table seats boosted by 14 seats at the marble-topped bar and a few outdoor tables on warm days, so reservations are a must.
The Rabars have maintained the place's original industrial look, with distressed brick walls and two industrial-scale doors, leftovers from its factory days. The dining space is long and narrow, cozied up to the long bar. There are wooden-topped tables, metal chairs that are (surprisingly) comfortable and a banquettes near the entrance as well. Edison filament bulbs hang on long cords from the high ceilings. When the place is packed, the noise level is very high.
There's an extensive wine list, and there are lots of beers, too. But we opted for a couple of cocktails. The White Out ($7.50), with house-infused cranberry vodka, orange, lemon and white wine would be a perfect summertime drink, refreshing and with just the right touch of citrusy tang. The Oakheart Sidecar ($7.50), with Bacardi Oakheart rum, orange syrup, a squeeze of lemon and a sugar rim, was sweet, but with a tang to it.
Appetizers include crispy Point Judith calamari and fried Plum Point oysters (the Rabars try to keep the menu as locally sourced as possible), both of which caught my eye.
But I couldn't resist the Corn Dogs with Mac & Cheese ($7), small but plump hot dogs coated in a house-made buttermilk-cornmeal mix with cayenne pepper, salt and (of course) Rumford Baking Powder, then fried. There was chipotle ketchup on the side for a bit of kick, making for a home-run combination. The mac 'n' cheese, served in a little ramekin, was bubbling hot and deliciously creamy, topped with a barbecue potato chip crust. It was down-home comfort food.
Even better were the Fall River Blue Mussels ($9). Not that the mussels were actually from Fall River waters, but the kale that was wrapped around many of the tender and flavorful mussels, the dices of mildly spicy chourico and the white beans in the dish were a nod to that city's Portuguese heritage. There were a couple of oven-dried cherry tomatoes in the mix, too, all served in a hearty smoked ale broth that gave the dish body and was perfect for dunking the crusty bread slices.
For those wanting lighter fare, or maybe just as an alternate appetizer, Avenue N has three grilled pizzas -- Margherita, Wild Mushroom, Pepperoni & Sopressata -- ranging in price from $10 to $14 for a good-sized eight-slice pie. The Wild Mushroom ($13) had a richly flavorful crust that was not so thin as to remove all flavor. It was topped with a variety of mushrooms -- chanterelles, shiitakes and creminis -- along with caramelized onions that gave the pie its sweetness. Melted soft fontina cheese and truffle oil made it a happy mix.
A plump breast of free-range organic chicken ($19) was as moist and fragrant as could be hoped. It came with a root vegetable purée of celeriac and potato. The pancetta-madeira jus gave a sweet taste to the potatoes and chicken, while corn kernels on the side won raves.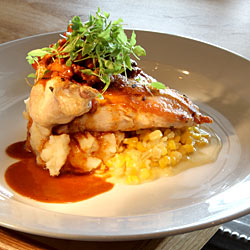 The free-range organic chicken with a root vegetable purée of celeriac and potato.
The free-range organic chicken with a root vegetable purée of celeriac and potato.
The chicken, said our friendly server, Dana, was his second-favorite entrée at Avenue N. No quibble there. But his favorite, the Cider-Brined Pork Chop ($22), didn't exactly live up to the hype, at least at first. It was a very thick, bone-in chop, but the first couple of bites were on the tough side. However, the closer one got to the bone, the more tender the meat. It didn't lack for tasty accoutrements, though, with rich brown sherry-rosemary gravy over a parsnip puree blended with Yukon Gold potatoes for creaminess, sweet Medjool dates, a bit of chopped bacon and chanterelle mushrooms.
Two of the three desserts this evening were house made. The vanilla crème brûlée ($7) was creamy with a crunchy caramelized crust that was very good. But the star of the dessert tray was Ricotta Doughnuts ($6) -- four Ping-Pong ball-sized pieces that were wonderfully light, thanks to the ricotta, no doubt. They'd been rolled in cinnamon, dusted with powdered sugar and came with a tiny cup of crème anglaise for dunking, just the right sweet touch to end a very good meal.
Dining Out
Avenue N American Kitchen, 20 Newman Ave., East Providence. (401) 270-2836. ave? nuenamericankitchen.com? . Casual. Wheelchair accessible. Reservations. Child seats and children's menu on request. AE, DIS, MC, V. Parking lot. Appetizers $7 to $12. Entrees $11 to $23. Dinner 4 to 10 p.m. Mon. to Thur.; to 11 p.m. Fri.-Sat.; 2 to 9 p.m. Sun. Brunch 10 a.m. to 2 p.m. Sun. Wines are $7 to $10 by the glass; $24 to $125 for a bottle.
Bill of Fare
Dinner for two at Avenue N American Kitchen might look something like this: Oakheart Sidecar -- $7.50 White Out -- $7.50 Fall River Mussels -- $9.00 Pork Chop -- $22.00 Free Range Chicken -- $19.00 Ricotta Doughnuts -- $6.00 Total food and drink -- $71.00 Tax -- $5.68 Tip -- $14.00 Total bill -- $90.68
- By Michael Janusonis at Providence Journal -
mjanuson@providencejournal.com | (401) 277-7276